Rectangle Flying Flag Banner
$149.00 – $349.00
Price includes:
Custom banner printing (any design supplied by customer)
Fiberglass flexi-pole that keeps the banner tight
And a convenient Oxford carry bag/case.
Description
Price include artwork set up
Shark Shape Flying Flag Banner
Small – Height 210cm (Printable Area: 168cm x 68cm)
Medium – Height 290cm (Printable Area: 250cm x 70cm)
Large – Height 410cm (Printable Area: 345cm x 70cm)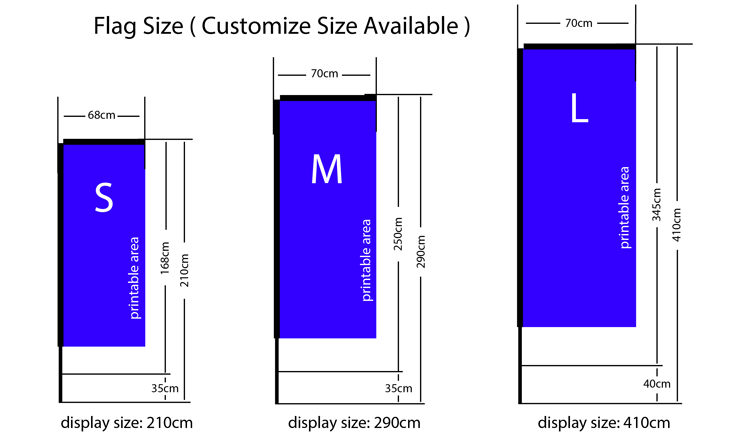 ---
We offer a wide range of flags and banners to meet your needs. Our flags are both waterproof and weather resistant, so whether you're in Sydney, Melbourne, Adelaide, or Brisbane, we've got the right flying flag for you.
We can make any banner size appropriate for you; simply tell us what grabs your attention and we'll find a solution.
Our Rectangle Flag Banner is a wonderful way to et the attention of your customers. This 1 or 2-sided fabric sign may be used by businesses outside their offices, at trade show booths, outdoor concerts, and even backyard activities.
It's light and long-lasting enough to withstand all types of weather. This is a great product for businesses looking to utilise the appropriate flag.
The flag looks best on windy days, since it's moving in the peripheral vision, which makes them eye catchers.
Make your point in a highly defined manner! These magnificent banners deliver the message with boldness and authority.
That's how you should welcome people when they come into your business. Each side of these flying banner signs is a different colour and design, which will catch the attention of everyone! What's better?
They're made of lightweight material that flies without fail in any condition.
*While the actual design of the sign is the responsibility of the customer, we do provide artwork set up free of charge. This is for us to position your design within the tear drop shape and to prepare the artwork for production.
Save
Save
Save
Save
Save
Save
Save
Save
Save
Save
Additional information
| | |
| --- | --- |
| Weight | N/A |
| Flag Size | S – Height 2.1M (Single Side Printing), S – Height 2.1M (Double Side Printing), M – Height 2.9M (Single Side Printing), M – Height 2.9M (Double Side Printing), L – Height 4.1M (Single Side Printing), L – Height 4.1M (Double Side Printing) |